Matthew 7:21-23 "Not everyone who says to Me, 'Lord, Lord!' will enter the kingdom of heaven, but only the one who does the will of My Father in heaven. On that day many will say to Me, 'Lord, Lord, didn't we prophesy in Your name, drive out demons in Your name, and do many miracles in Your name?' Then I will announce to them, 'I never knew you! Depart from Me, you lawbreakers!" (HCSB)
When I was growing up in my small church in Frewsburg, NY, I was always told about how important it was for Christians to know Christ. In fact, that very concept is used often in our evangelism. How many times have you asked, or have been asked, "Do you know Jesus Christ as your personal Savior?" From a Christian perspective it seems like a great question to ask, but in reality that question has humanistic undertones. When we refer to the verses I have quoted out of the New Testament book of Matthew we see four words that stick out; "I never knew you.The glorious Gospel of Jesus Christ is the only way God has chosen to get to know you." What is the indication here at the end of these three verses? This tells us that no matter how much we think we know about God it is worth nothing if He does not know us. Think about the implications of that! We have an all-powerful God that knows everything about us; and yet, He still desires to have us let Him experience us through prayer, worship, and service. You see, the things that we do are not for God.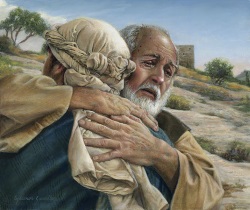 Prayer, worship, praise, thanksgiving; all of these things are for us, not Him. God does not need our praise, worship, etc. God will not become anything less than He already is if we do not praise and worship Him. God has given us such things as a way for Him to experience us, to truly know us. Like I have mentioned before, everything that God has done for us has been out of His love. Everything that He has done was planned. With God there is no "plan B." Every trial, temptation, opportunity to do good works is a way that we might discover the fullness of God through Jesus Christ.
Throughout history man has never tried to seek God. He has always tried to find a way to be as close to God as possible without the actual need of going to Him. This was the very temptation that Satan presented to Adam and Eve in the garden. Throughout history it has always been God who has come down to man. When Adam and Eve hid themselves in the Garden of Eden it was God who came down and asked where Adam was. When sin became so rampant on the earth it was God who came down to Noah and told him to build the ark. When sin was ready to pay us the wages of our work it was God who sent His only begotten son to receive the payment of our labor. We can only love Him because He first loved us. The glorious Gospel of Jesus Christ is the only way we can experience unconditional love. The glorious Gospel of Jesus Christ is the only way God has chosen to get to know you. The question today is not whether or not you know Jesus Christ as your personal Savior; no, the question is: "Does Jesus Christ know you as His personal companion?" How much of yourself do you continue to hold onto in your daily walk with Him?